Adventure The Bruce Inn
Establishment and lodging at 7362 Ontario 6, Tobermory, ON N0H 2R0, Canada. Here you will find detailed information about Adventure The Bruce Inn: address, phone, fax, opening hours, customer reviews, photos, directions and more.
Rating
2.8 /5
Based on 5 reviews
Photos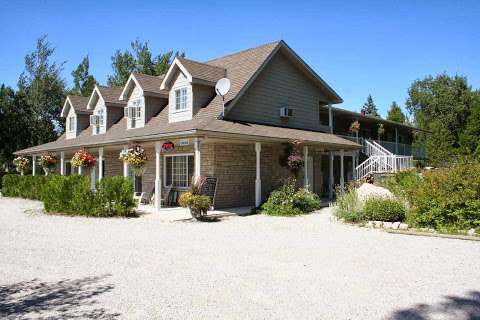 Reviews of Adventure The Bruce Inn
Jon S Added 2018-10-30

★ ☆ ☆ ☆ ☆

EDIT: Wow. Attacking customers is your form of a response? Folks, a bad business/owner attacks customers and does not admit blame. Look at all past bad ratings. Definitely a place to not stay. Wow, laughable at best.

Whew, high price, staff are ignorant, no power in cabins - Save yourself the hassle of dealing with a ridiculously expensive place for no reason and stay somewhere else. Literally, a cardboard box on the street would be better than the reception this place gives. Wow.

Denise dietrich Added 2018-10-01

★ ★ ★ ★ ★

Just so relaxing. Hot tub and even single little bungalow. Perfect.The only thing bed is really hard . Not comfortable. But other then that it's really nice.

Julia Schmitt Added 2018-09-25

★ ★ ☆ ☆ ☆

We had an unpleasant experience here. Get ready for a long review. To begin, customer service was awful (You can see how they are by reading how they reply to comments. Very defensive). When we arrived to check in, we entered the small reception area. There was one person behind the counter, and two people writing something down in the room and no one was talking. No one said hi when we entered, so I initiated the conversation. I said we were here to check in, and the lady behind the counter responded with "That's nice." We were a bit shocked by that. She then rudely told us to wait until the other two people were done then she could help me. I wasn't aware we was helping them! Then another morning we were grabbing coffee in the reception area, and the coffee maker was out of coffee, so I told the person behind the counter there was no more coffee. She laughed and said, "Well that's the least of my problems this morning!", then left the reception area to speak with someone outside. I was very taken aback by that comment. I noticed that there were filters on the coffee tray, and we had to make our own coffee. But I didn't know this when I walked in. It would have been nice of her to inform me that we had to make it.
Also, we weren't even aware we were staying in a cabin until I payed for the room, as the website doesn't advertise it even has cabins. I also only found out there was no hydro and no showers until after I booked. I am not the only person who has experienced this, so even though in many rude replies to other people's comments, it is NOT clear.
On the plus side, the beds in the cabin were comfortable, and the cabins were actually pretty cute. Definitely not worth anything close to what I paid though. For the same price, I could stay in a five star hotel that has electricity, a bathroom, breakfast included and friendly staff who makes our coffee for us .

Jena Kim Added 2018-09-15

★ ★ ★ ★ ★

Great service. The staff were very accommodating and friendly. They cleaned up the room really nicely when requested and were very helpful as well.

Jessica Moore Added 2018-08-19

★ ☆ ☆ ☆ ☆

My husband and I lead a dive group up to Toberymory every year. This is our fifth year going there, but our first year we had people stay at Adventure Inn. We had a terrible experience. We got charged before getting to Tobermory, which was stated in an email my husband received. The problem was that it was the wrong credit card they charged. My husband went to talk to the manager about it and she told him there was nothing she could do. I went back to talk to her to see if she could refund the money and charge my other card. The manager told me it wasn't her problem and she wasn't going to refund the money. I don't know any business that tells people it's not their problem and gets return business, so my group will not be going back to Adventure Inn.